---

99 Nights with the 99 Percent (2016 Reissue): Dispatches from the First Three Months of the Occupy Revolution 
Buy the print edition on Amazon
FROM THE 2016 FOREWORD: With the fifth anniversary of Occupy Wall Street and its franchises all across the country upon us, it's interesting to consider that both widespread agitation and mass grassroots momentum come in waves—from the anti-nuclear proliferation front in the 1980s to the emerging post-Bernie for President movement today. These magic moments are all worth extensive study, because while the faux-populists who cheered on the extinction of Occupy like to pitch some version or another of the same question—What ever happened to those losers?—but aren't interested in waiting for responses, the actual answer is omnipresent.
THIS IS THE REISSUE OF MY FIRST BOOK. HERE'S THE ANNOUNCEMENT FOR THE ORIGINAL 2012 EDITION (which is out of print, though you can typically find copies on Amazon and eBay): Occupy Wall Street was the biggest news story of 2011. Among those who followed the movement like a storm chaser, Boston Phoenix Staff Writer Chris Faraone is one of the few who blogged about daily Occupy minutiae, but also stepped back to investigate and analyze the protest, and deliver weekly features.
Starting in September, Faraone published a series of deep Occupy portraits, traveling to more than a dozen cities from Boston to Seattle. His work illustrates day-to-day Occupy operations, as well the characters who make the movement tick. In the process, he also landed nationwide exclusives, like a scoop on an underground legion of cops who support Occupy.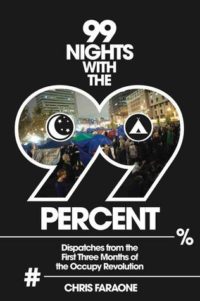 99 Nights with the 99 Percent is a collection of Faraone's published posts and articles on Occupy, streamlined into a sleek 224-page edition that also packs unpublished pieces and a number of bonus features. In addition to pics and illustrations, a series of haikus run throughout the book, taking readers through a timeline of the first 100 days of the movement.
There are other books on Occupy, and by this time next year there will be countless tomes, apps, Occu-mentaries, and oral histories to choose from. But even then, 99 Nights will remain in a class of its own, as Faraone's story—and the way he tells it, packed with humor and emotion—is wholly unique.
REVIEWS:
---
HIZZONNAROO: The fervent fete and street fight to replace a Boston patriarch (2013)
SUMMARY: It was less than a month after the Boston Phoenix shuttered that iconic Mayor Tom Menino announced he wouldn't run for a sixth term. Though between publications at the time, former Phoenix staffer Chris Faraone wanted badly to weigh in on what promised to be an exhilarating scrum, and so he seized an opportunity to write a weekly rant on the race for the Jamaica Plain Gazette and its sister papers, the likes of which he considers rare beacons of independent integrity among mass media competitors.
Though restricted from profanities for the first time in his career, Faraone ravaged the mayoral beat, eventually packing more than 30 "Politics as Unusual" with some of his most fiery work to date (all of which are featured in HIZZONNAROO). Digging deep to his progressive roots, he helped usher pressing and invisible issues like foreclosure into the public conversation, and did so long before most other journos and opinion mongers spoke up. From the talent of some candidates to the depravity of others, Faraone often fired the first shot.
As implied by the arcane title – a mashup of Hizzoner, the generic moniker for municipal monarchs, and the annual cultural blowout Bonnaroo – HIZZONNAROO is Faraone's most local release to date. But while his writings and polemics on Hub politics are bitter bubble gum for local wonks and lefties, they're also fit for anybody – whether now or in several decades – tracing alternative explanations for how Boston picked its first new mayor in two decades.
---
I Killed Breitbart: … and countless other causes of conservative consternation (2014)
Boston-based journalist Chris Faraone spent the first few months of last year hopping between radio and press appearances to argue with dipshits and promote his book on the Occupy Wall Street movement, 99 Nights with the 99 Percent. In traveling to more than a dozen states, he clashed with countless conservatives including hosts and callers on the right-wing WRKO in his adopted home of New England, where he's spent the past decade writing for alternative news outlets.
On February 27, 2012, Faraone faced his ugliest opponent yet – the incendiary blog tornado Andrew Breitbart. They scrapped, took a few bites out of one another, and at the urging of producers at the station, agreed to a rematch one week later. They never got a chance to dance, though, as Breitbart died from heart failure the next day. In the weeks that followed, the army of assholes who worship his unique brand of right-wing baloney attacked Faraone ferociously, dragging him into the toxic underbelly grumbling beneath American politics.
Following an introduction by satirical anarchist icon Vermin Supreme, BOOK ONE of I Killed Breitbart opens with Faraone's story of countering conservative Goliaths. In the 8,000-word title chapter, the critically applauded polemicist casts asses like Breitbart and Sean Hannity into history's trash can alongside slave owners and Klansmen. Following those tales about Team Breitbart, Faraone has included an expanded version of his viral feature, "The Trials of Nadia Naffe," part of which first appeared in the now-defunct Boston Phoenix.
BOOK TWO (subtitle: Countless Other Causes of Conservative Consternation) is split into three sections: The Right, The Left, and The Fuzz – each comprising remixes of Faraone's finest field reporting from the past three years. In The Right, he hangs with hardcore libertarians, militiamen, Glenn Beck fanatics, and rapture warriors. For The Left, he blends updates of previously published work with new original gems from post-encampment Occupy actions, a number of which involve police brutally arresting a number of journalists including Faraone himself.
A robust and descriptive portrait of America's most loathsome creeps and ideologues, I Killed Breitbart balances real concern for the state of national sanity with a less-than-subtle mockery of everything from pop culture to religion. In the works for more than a year, the book also packs exclusive pics from the front lines of Faraone's travels, plus previously unreleased road dispatches including a Republican counterpart to his hallucinatory adventures at the last Democratic National Convention. It's not your typical political reporting.
REVIEWS:
---
Heartbreak Hell: Searching for sanity in Boston through a week of tragedy and terror (2013)
Chris Faraone was a block and a half from the finish line of the Boston Marathon, en route to a bar called Forum on Boylston Street, when the bombs went off. The day's shift from carnival to chaos is preserved impeccably on his Twitter feed.
"I'd make fun of all the people going to watch the marahon [sic] in running gear, but I totally did go to see Magic Mike in my G-string," he wrote at one point. Soon after, he was sending dispatches from a war zone: "Some relatively calm, others crying for blocks near Boston marathon finish line where loud noises were just heard," "Observer who was right near Boston Marathon finish line during explosions tells me he smelled gun powder," "FYI to my friends and fam and readers: I'm okay, and for the next few hours will be writing and processing today's pandemonium."
That last tweet could serve as an epigraph for the e-book Faraone, a former Boston Phoenix staff writer who covered everything from Occupy protests to the LA rap collective Odd Future at the bygone paper, will release Friday, April 26 called Heartbreak Hell: Searching for Sanity in Boston Through a Week of Tragedy & Terror.
Faraone didn't just spend the hours following the attack writing and processing; he has never really stopped. He was interviewing people at the vigil in Boston Common the day after the bombings. Then he was speaking to a gaggle of nurses in town for a medical convention. Then, on Friday — the day Boston literally and figuratively froze with fear — he reported from what seemed to be the only open bar in the entire city: Biddy Early's, in the Financial District.
"I hate to be that guy . . . who never stops talking about how he was never late to work in 20 years at the World Trade Center, but got a flat tire on 9/11," he writes via email about the "dumb luck" that prevented him from reaching Forum ten minutes earlier. "But in this case I guess I am."
By Philip Eil, The Portland Phoenix
April 24, 2013
REVIEWS:
---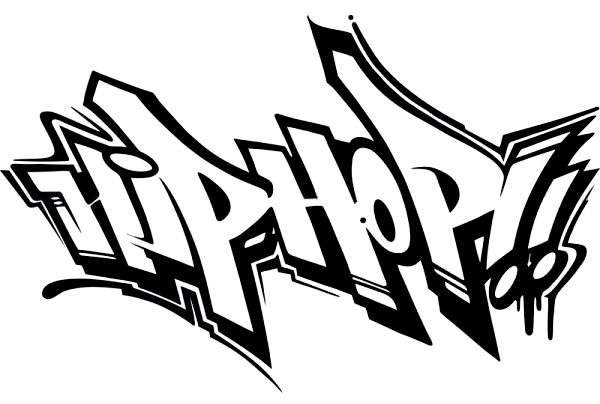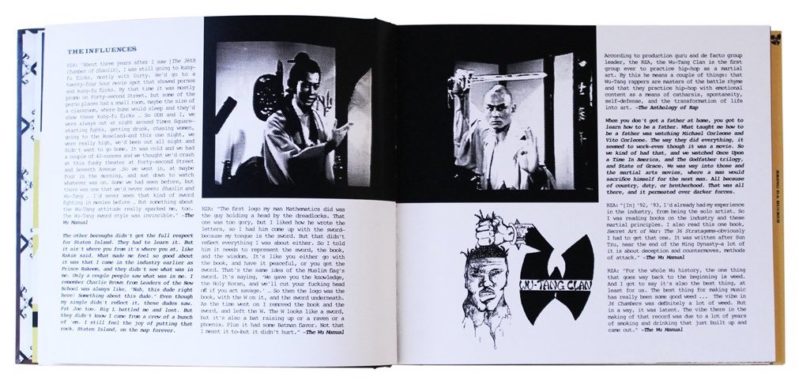 Liner Notes w/ RZA
---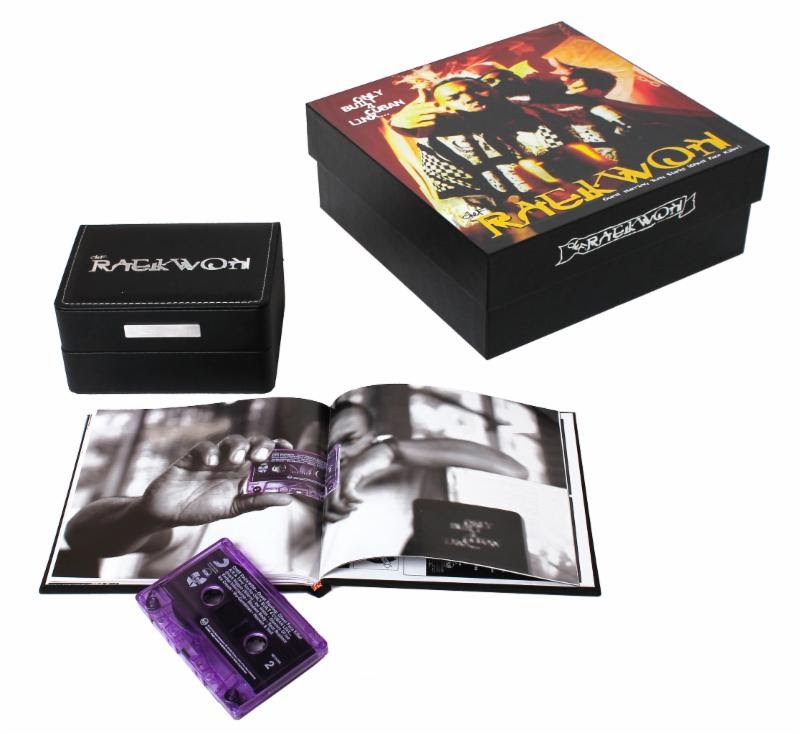 Liner Notes w/ Raekwon
---
Liner Notes w/ Ghostface Killah
---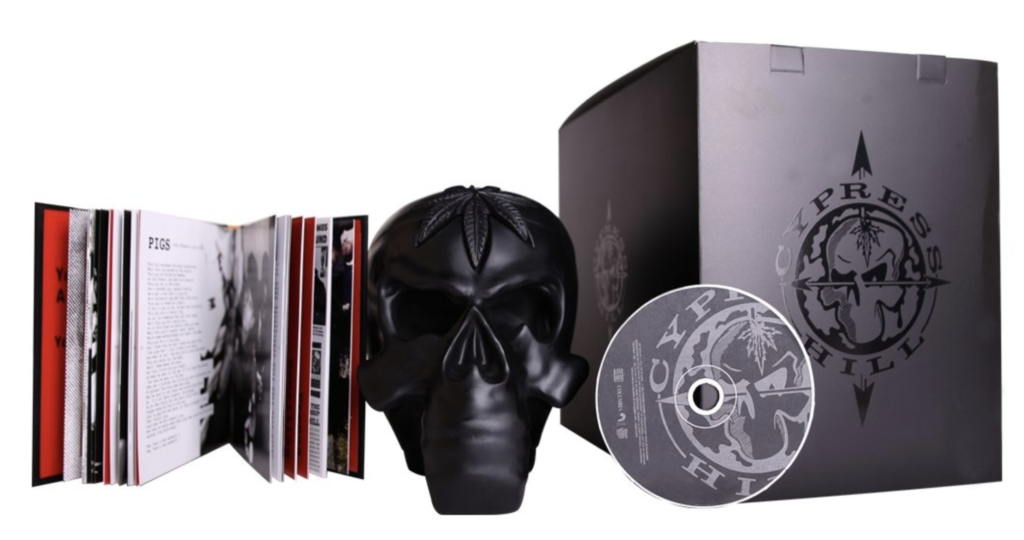 Liner Notes w/ Cypress Hill
---
Liner Notes w/ Non Phixion
---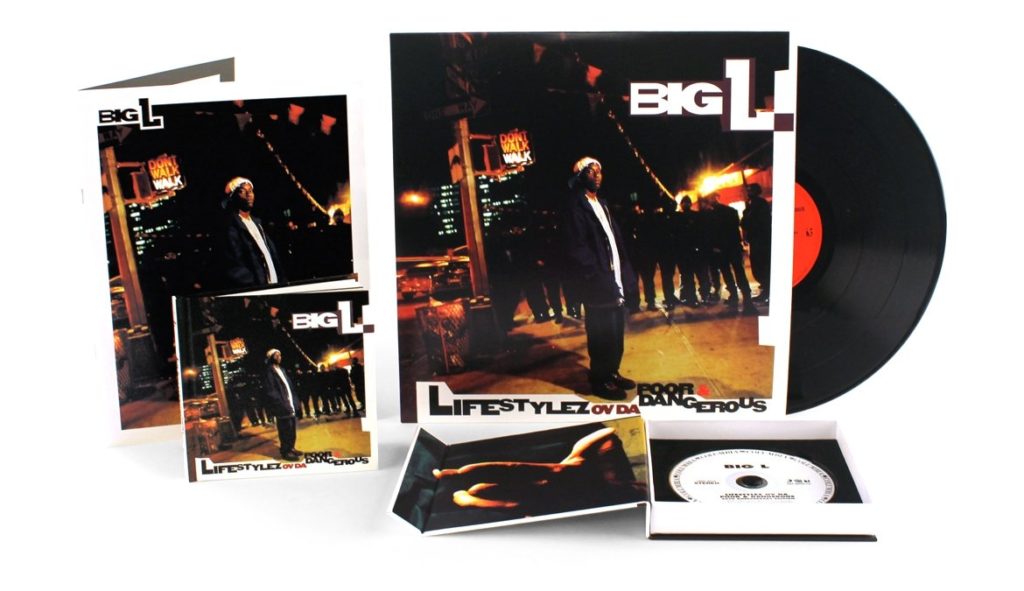 Liner Notes w/ Big L